Lotus: News, Picture Galleries, Models, & More
All Things Lotus. Your Hub For All The Iconic Cars, Models, Specs, Videos, Galleries & Much More
Mr Chapman starts out by modifying a 1928 Austin Seven for local trials races and his small 15-hp car wins a number races, essentially funding Chapman's next car. Doing this a few times, Chapman starts Lotus Engineering Company to build race cars, the first of which is the Mark IV trials car.
Essentially a formula car for the road, the lightweight, quick, and responsive Mark VII—known today simply as the 7—starts production in 1957 and continues on today as the Caterham 7.
To make enough money to keep racing, Chapman develops his first dedicated production car, the Elite, which features a lightweight fiberglass body and structure. Powered by a single-overhead-cam Coventry Climax 1.2-liter engine making 102 hp, the fiberglass Elite weighs in at 1705 pounds.
Next was the Lotus Elan, an instant classic. The two-seat roadster mounts a fiberglass body onto a steel backbone with a small four-cylinder engine. Lotus continues development, adding larger (more powerful) engines over time. This simple formula is what makes Lotus cars unique and loved by enthusiasts.
In 1976 Lotus launches the mid-engine Lotus Esprit. With a 2.0-liter four-cylinder engine making 140 hp the futuristic wedge-shaped Esprit runs from 0 to 60 in 9.6 seconds.
It wasn't till the Esprit S2 that performance improved but we had to wait till 1980 and the turbocharged Esprit with its 210 hp engine to really enjoy the sweet chassis.
More recently, Lotus went back to basics and starts building the mid-engine, lightweight, two-seat Elise. Underpinned by a novel tub made of aluminum sections glued together, the Elise weighs a scant 1500 pounds. A love-fest starts and the Elise and later on the Exige are the track day choice for serious amateur racers.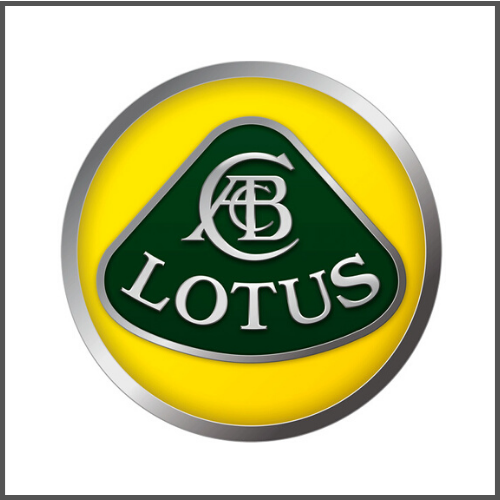 What does the Lotus logo mean?
Everybody know the Lotus logo when they see it yet few people stop and really look at it closely. The first thing you will see is that the logo has the initials of the company's founder, Anthony Colin Bruce Chapman. The four letters are positioned inside a triangular lozenge structure against a racing green background. The use of yellow color in the Lotus logo embodies sun, energy and joy.
Quick Lotus Links
Lotus News
Current Lotus Models
Full Lotus Model List
Full Lotus Race Car List